FAQ's
Long Term Residential Care
When can I visit?
The nursing home is open to visitors 7 days a week between the hours of 11am to 9pm, with the exception of mealtimes.
We would ask that in the interests of resident safety, visitors who are experiencing flu like symptoms, vomiting or diarrhoea would refrain from visiting the centre, due to the risk of infection.
Can a resident go out for the day or stay overnight with family?
If a resident wishes to leave the centre to stay with family or friends, they are welcome do so if happy with the arrangements and once they are well and have their correct medication with them. Restrictions on the above have applied at various stages during the pandemic but are assessed on a case-by-case basis by the Director of Nursing.
What activities are there?
A designated Activities Team look after a timetable of daily events to keep residents entertained and active.
Residents are gently encouraged to take part in a wide range of social activities depending on their interests and preferences, these include music sessions and exercise sessions for many levels of interest and needs.
From a gentle stroll in the beautiful gardens or to take part in a sing-along with our talented activities team or individual musicians.
There are also a range of other activities including a Men's Shed with planting or craft workshops, Baking, Pottery, Kitting Club, Table Quizzes, and Bingo. The Café is open every day for food, drinks made by our expert barista, and group activities, such as board game meet-ups.
We have a bi-annual Marquee for Easter and Christmas, where a week-long list of events take place. We host performances from local schools, professional musicians, resident meetings and parties, pub nights, and more. During the warmer months, most of our group activities are held in the gardens.
A separate weekly service charge applies for Fair Deal residents. The weekly service charge covers a range of services provided to include activities, musicians, pastoral services, physiotherapy assessments, phlebotomy and infection control screening services.
How much will I pay to stay?
If you are a long-term private resident the Tariff Sheet will provide you with a full cost schedule.
If you are availing of Fair Deal, it will vary from client to client depending on the financial assessment completed by the HSE, we have no involvement in this assessment.
Is physiotherapy included in the fee?
The weekly fee covers nursing and personal care, room and board, and general laundry only. Physiotherapy is available but will incur a charge, please see the Tariff Sheet for a full list of services and costs. Other goods and services may be available under schemes such as the Medical Card or Drugs Payment Scheme.
How will my laundry be looked after?
On arrival we will ask to take your laundry so that it can be labelled correctly by our Accommodation team, this will take a few days to complete, so please bear with us. We cannot provide specialist laundry services dry clean and delicate clothing should be avoided as damage can cause upset. Please give any purchases or gifts of new clothing to our reception team for labelling.
Is there a doctor available?
We have a doctor on-site three times a week to visit and review any residents requiring GP services.
What kind of food do you serve?
We cater for many types of normal and restricted diets in Orwell Healthcare. Our emphasis is on providing fresh food, sourced locally and cooked daily in our kitchen. We offer a variety of menus that change with the season, taking into account resident likes and dislikes. Our kitchen is happy to cater for special requests and dietary requirements.
Please see below for a sample lunch menu: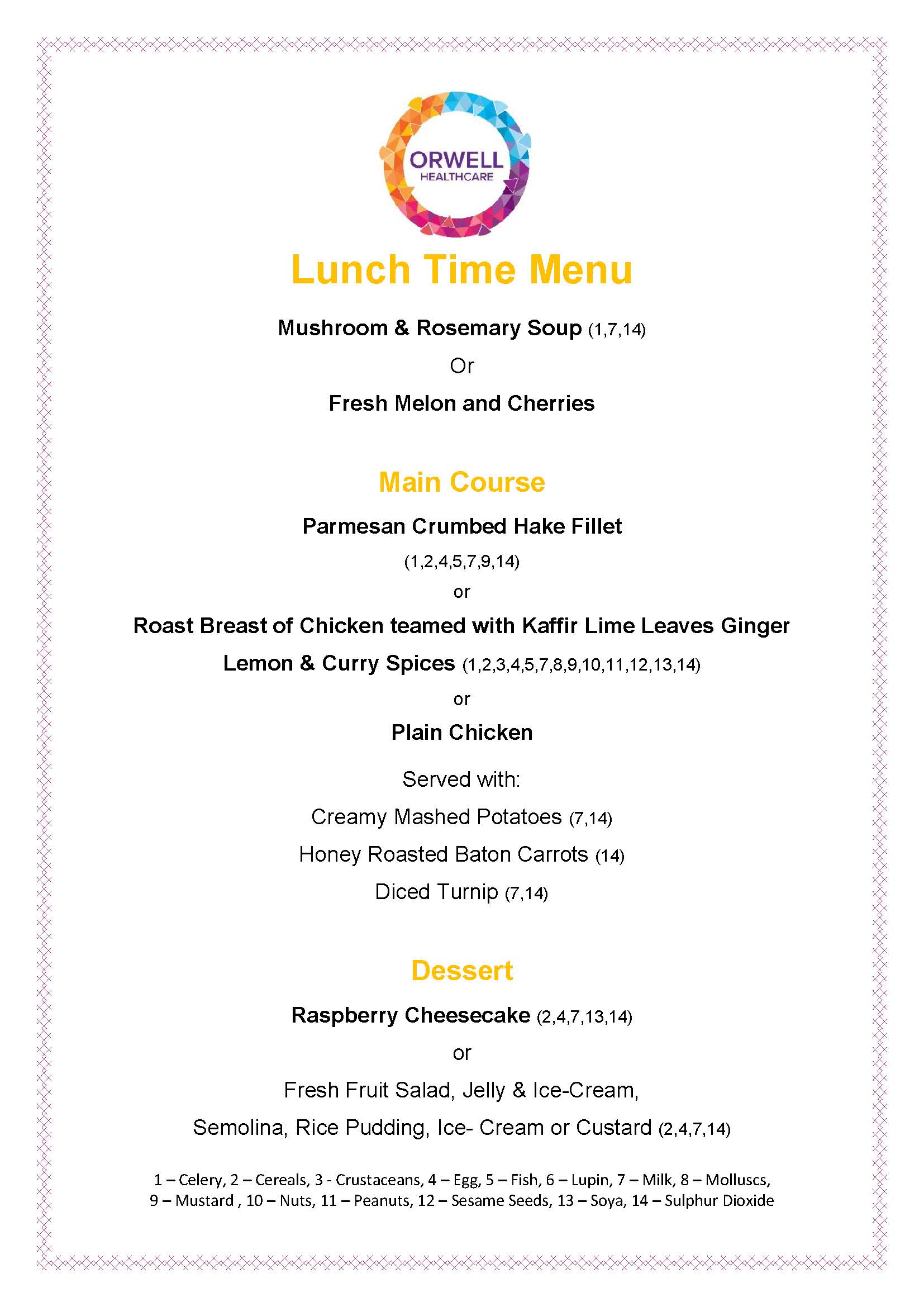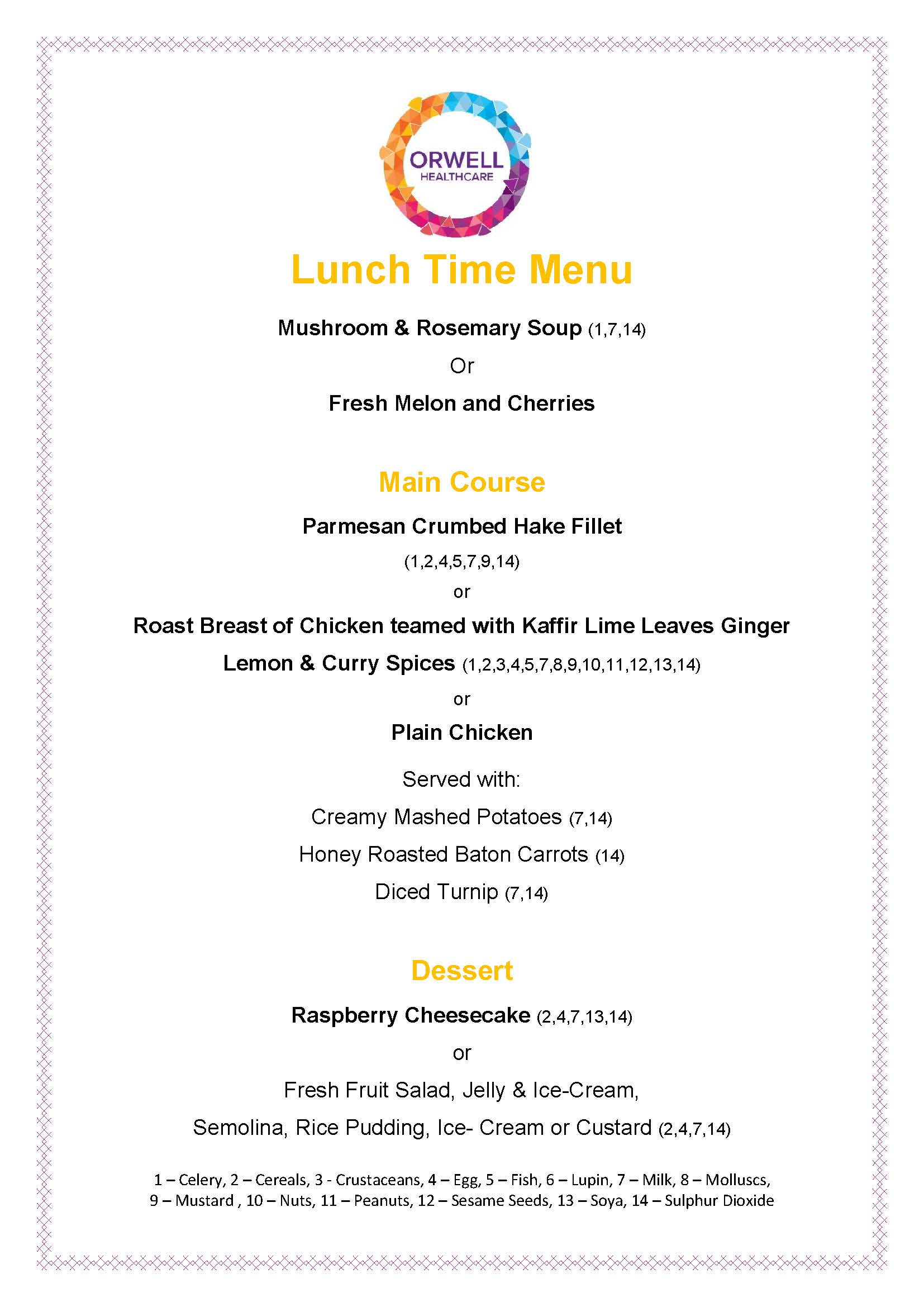 If you have any questions please feel free to contact us anytime. You will find all our details on our contact us page.